Type of Psoriasis: Plaque, Guttate, Pustular, Inverse and Other Types
World Psoriasis day  29 octobre 2024
Inspiring Hope and Empowering Individuals with Psoriasis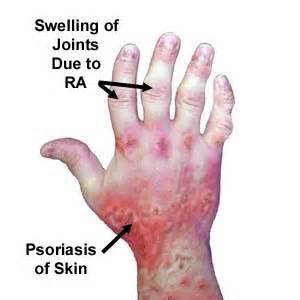 The Different Types of Psoriasis
There are five main type of psoriasis. As with any disease, categorization is not easy. Symptoms often overlap. Conditions and symptoms may even change over time. One type, known as pustular psoriasis, has three sub-types. This makes diagnosing your particular type even more difficult. Your family doctor may not be an expert on the disease, but he can refer you to a dermatologist specializing in psoriasis.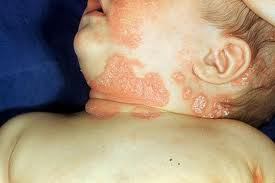 Child Psoriasis
---
Plaque Psoriasis (psoriasis vulgaris)
This is the most wide spread form of psoriasis. It is believed to be hereditary. About 80 percent of sufferers have this type. It is distinguished by raised and inflamed lesions covered by flaky scales. Typically, these lesions appear on the shins, elbows and scalp.
There are various treatments you can try to lessen the scaling. Some people have had great results from sun exposure and tanning beds. In some cases, soaking in epsom salt has cleared the condition completely. Zinc oxide has also been proven to work wonders.
If none of these treatments work for you, prescription medication may be the only answer. Unfortunately, there is no one treatment that works for everyone. Talk to your doctor or dermatologist about treatment options. You may have to try a few different things before you find one that works you. More information about plaque psoriasis

Guttate Psoriasis
This type is fairly uncommon. It usually develops in adolescence. This type appears as small, pink dots and can spread over large parts of your body. Although heredity is a factor, it is believed strep throat can trigger the condition. More information about guttate psoriasis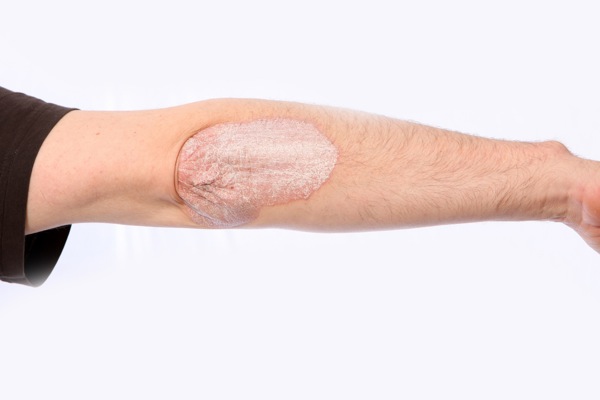 Psoriasis on the ellbow, a part of the body which is often affected by this disease.
Type of psoriasis, more information about psoriasis treatment
Other triggers include:
viral or bacterial infections
respiratory infections
some medications used to treat heart conditions
stress
sunburns
heavy drinking
Since this type of psoriasis is extremely itchy, treatments may include prescription dandruff shampoo, moisturizers, anti-inflammatory creams and vitamins A or D.
Pustular Psoriasis
Pustular psoriasis has been sub-divided into three categories. Von Zumbusch The appearance of this type can be quite sudden. It begins with red and tender skin covering much of your body. Within hours pustules appear. These will dry up and peel within a day or two. This cycle of eruptions can go on for a few days or even weeks. More about this type of Psoriasis, pustular psoriasis.
Palmoplantar pustulosis
This type appears as pustules on the soles and palms. These pustules redden, turn brown, then peel and crust over. This is followed by a quiet period, then the cycle is repeated.
Acropustulosis
Typically, this rare form of psoriasis appears as skin lesions on fingertips and toes. An eruption can be caused by an injury or infection. These lesions are often very painful and can produce deformed nails. In severe cases, bone damage can occur.
The other two types of psoriasis are Inverse and Erythrodermic psoriasis. The first appears mostly in sweaty regions of the body. It is also very itchy and may be treated with the same products used to treat Guttate psoriasis. The second, Erythrodermic psoriasis, can result in protein and fluid loss. Your body temperature can drop drastically. This can lead to a life-threatening illness requiring hospitalization.
If you have any of these symptoms, talk to your doctor to determine which of the types of psoriasis you may have.
---
More than one type of psoriasis
bB>Ba><'>

National Institute of Arthritis and Musculoskeletal and Skin Diseases
---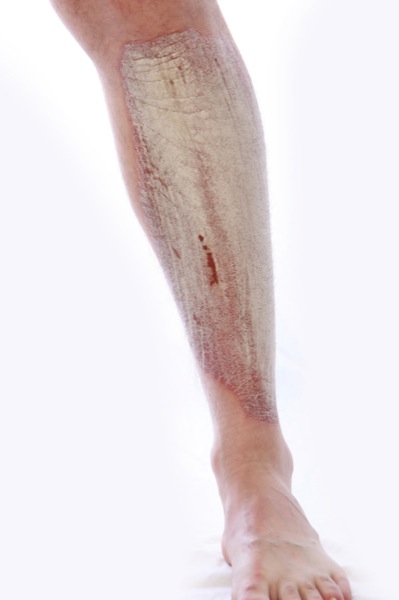 Psorias on the leg
---