A Psoriasis Dead Sea Experience and True Story
World Psoriasis day  29 octobre 2023
After much research study and also a variety of letters to Israel's tourist office, as this was prior to the Web, I located a resort in Ein Bokek off the coast of the Dead Sea. No traveling agents were providing any type of plan offers for this area and also the resorts were out of my spending plan, compeling me to place my desire on hold as well as look for various other therapies. psoriasis dead sea,

Getting rid of psoriasis, Dead Sea salts is very efficient, as I found out not as well lengthy back after conquering lots of difficulties. Years earlier, and also after going to with numerous medical professionals, I uncovered that the Dead Sea can assist individuals affected by all kinds of psoriasis, consisting of psoriatic joint inflammation, where I endure.
The years passed, my kids were grown and moved out and the Internet was now a powerful means of obtaining information and deals. A few days before Christmas of 2003, I told my wife the time has come for me to fulfill my dream and that I did not want to wait any longer to treat my psoriasis Dead Sea.
My Psoriasis Dead Sea Journey
I began my research on the Internet and noticed the hotels were still quite expensive, but convinced myself I had too take this trip for my mental well-being and overall health. psoriasis dead sea.
Newe Zohar
After looking at a map, I realized the reason the hotels charged so much money was because there were only a few in the area. I reviewed the map some more and noticed some houses at the end of the southern part of the Dead Sea. This gave me the idea to search for a bed and breakfast in Newe Zohar, which turned out to be more affordable.
B & B Garden in Newe Zohar, my room was just behind, and the shared kitchen on the first floor. Refrigerator and AC in the room.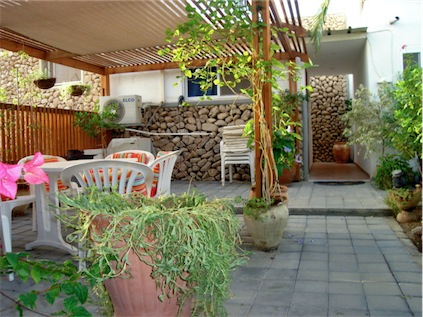 My Accommodations
After reviewing several proposals, I decided to go with a man who speaks several languages and has a Danish nurse for a wife. This was an added bonus because as a nurse, she could provide me with sweet water while I enjoyed the pool, beach and a free breakfast every morning. The room had air conditioning, a refrigerator and television while the common area offered a shared kitchen.
The Clinic
Upon arrival, I booked a one week package, which I strongly recommend, with the nearby clinic at the Hotel Lot. At the appointments, the doctor examines you and advises you as to how much time you should spend in the sun. Getting plenty of sun was not a problem since Newe Zohar is almost an hour walk to the shore of the Dead Sea, but overexposure was a risk if I did not wear sunblock.
Sunbathing
Hotel Lot Ein Bokek
Additionally, the roof provided two compartments for sun baths, one for men and one for women. The public beach also provided a bathmaster but the one at the hotel was cleaner and more convenient, though I still wore a bath robe. Local laws also prohibit you from bathing on the beach in public because of the large and dangerous stones that cover the shore. This was the first method I learned in treating psoriasis Dead Sea.
What Works for Me
In the following years when I went back, I stopped following the advice of the clinic doctors. Instead, I listened to my dermatologist and stayed near the Dead Sea for four weeks, after which time, most of my psoriasis disappeared. Knowing it would come back, I made follow up trips every three to four months and everytime, the Dead Sea seemed to improve my psoriasis more than the previous time.
While treating my psoriasis Dead Sea, I created my own schedule and planned each day. I woke up at 6 am every day, got ready and walked an hour to the Hotel Lot in Ein Bokek for breakfast. I toured the area and found small shops, fast food places and familiarized myself with the bus on my trips to Be'er Sheva, which is full of super markets.
Transportation
I also learned a few things about the airport as I became a frequent traveler to the area. In Tel Aviv, the airport has a transportation service that takes you to the Dead Sea. Of course, you may pay full price and take the car alone, but if you wait for it to fill with other passengers, the rate is much cheaper. It is a small savings but if you have a tight budget like me, every little bit helps.
Before I traveled to the Dead Sea, I thought only people with psoriasis went their for treatment but I was wrong. During my trips, I met people suffering with eye problems, heart disease and other illnesses. Treating psoriasis Dead Sea works and I encourage you to get more information about traveleing here by contacting your travel agent or the Israel Tourist Office.
I hope my information will help people to find some relief and wish you all the best.
Kind regards,
Albert B. 
Back to Top
---
---