Top 6 Aloe Vera Psoriasis Treatments
World Psoriasis day  29 octobre 2023
Straight ALOE VERA Psoriasis Treatments
Many are finding that using aloe vera psoriasis treatments are proving beneficial is lessening psoriasis plaques and easing the associated dryness and pain. Since aloe vera is so versatile, it can be use both internally and topically..
Aloe vera juice and gel can be used straight, unadulterated, as-is, either internally or topically.
1.    Drink It – Aloe vera is rich in vitamin B12, which can often be deficient in those with psoriasis. NOTE: Avoid if you are pregnant or lactating.
Drink 1/8th of a cup of aloe vera juice twice a day, before breakfast and supper, mixing in juice or smoothies to make it more palatable.
2.    Straight From the Leaf – Slice open or break open an aloe vera leaf and extract the gel and apply to skin, joints and nails. For about 2 minutes, using a circular motion, gently massage the gel into the skin. Repeat three times a day.
Using cool water wash it off after about 15 minutes, or you may choose to leave it on overnight, wrapping the area with plastic wrap or sheeting to lock in the moisture.
Aloe vera mixes with numerous additives which in many cases increases its effectiveness and benefit.
3. Coconut Oil and Aloe Vera – Use extra virgin coconut oil (requires melting) or fractionated coconut oil (which is liquid). Using the liquid coconut oil, mix 1/2 cup with 1/3 cup of fresh aloe vera gel. Blend well or whisk for five to seven minutes. Next you may choose to add a few drops of two or three essential oils such as rose, lavender, geranium, German or roman chamomile or sandalwood. No more than a total of five drops of any combination of oils.
Gently massage in the mixture before bed and leave on overnight, storing the left over mixture in the refrigerator. In the morning, using warm water, you can rinse off any residue of the mixture. This mix can also be applied to the scalp before shampooing, or even after a bathing, which locks in the moisture.
4. Cayenne Pepper and Aloe Vera – You might be surprised at how using this hot spice makes an effective aloe vera psoriasis treatment. Mix two teaspoons of cayenne pepper with 1/4 cup of aloe vera gel. Massage into your skin either after showering or just before going to bed. Leave it overnight or overnight before rinsing off with cool water; pat dry. Repeat this treatment daily.
NOTE: If you experience any burning with this treatment, wash it off and treat the area with a moisturizer.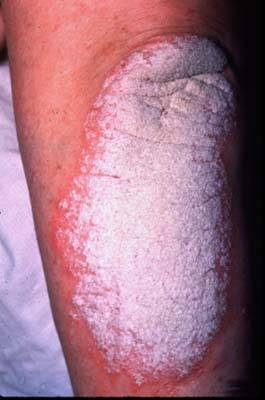 Chronic Plaque Psoriasis
Essentials OILS and Aloe Vera
5. Essential Oils and Aloe Vera – If you are into essential oils, you may want to try this treatment, which features tea tree oil, known for its anti-inflammatory, anti-bacterial, and antiseptic properties. Many report it eases the burning, redness and itching of psoriasis.
Ingredients: 100 ml of pure aloe vera gel, 10 ml of avocado oil, 10 ml of jojoba oil, 10 ml of vitamin E oil, 20 drops of lavender essential oil, 20 drops of bergamot essential oil, 10 drops of patchouli and 5 drops of German chamomile.
After mixing, pour into an airtight container and let stand overnight. To apply, massage gently into your skin immediately following a shower. Rinse off after a few minutes. Apply twice a day.
6. Shea Butter and Aloe Vera – Mix 1 teaspoon each of aloe vera, coconut oil, shea butter, as well as cocoa butter, jojoba oil, evening primrose oil, and five drops each of lavender and calendula essential oils, and vitamin E oil. This mixture makes a nice moisturizing cream, which can be applied daily for relief from itching and dryness. Apply to affected skin and scalp and rinse off after 20 minutes. In some cases, you may want to leave on overnight to be rinsed off in the morning.
These are just a few of the many aloe vera psoriasis treatment options that you might find beneficial.
Back to Top
---